10th Annual Student Workshop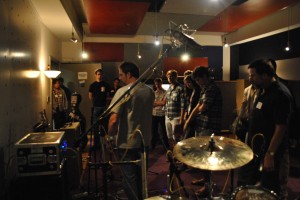 Saturday, September 20, 2014
Sign-in 8 am -9 am
Workshop 9 am – 5:30 pm
(Lunch Provided) 
THIS EVENT HAS REACHED CAPACITY
REGISTRATION IS CLOSED
This workshop is intended for 
high school
 and 
college students
 who have career goals in the audio industry.
Students will attend four classes held throughout the day followed by a panel discussion on careers in audio.
The classes will cover 
fundamental topics
 necessary for a solid foundation in audio production.
Topics to be covered include:
- Mixing With Julian King (Jo De Messina, Chris Young, Tracy Lawrence)
- Cubase With Greg Ondo (Stevie Wonder, Peter Frampton, Frank Filipetti)
- Critical Listening With Jim Anderson (Ella Fitzgerald, Branford Marsalis)
- Microphones With Matt Still (Elton John, Fall Out Boy, Outkast)
All classes will be taught by audio industry professionals..
THIS EVENT HAS REACHED CAPACITY
REGISTRATION IS CLOSED

Registration Fees (deadline September 17):
AES Student members – $25
Non-members – $35
This Event Is Sponsored By: